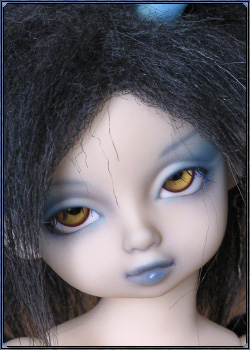 Name:
Ishkiriel (Ishki)
Mistress:
Malakhim
Birthdate:
March 26th, 2007
Starsign:
Aries
Bloodtype:
non-human
Colour:
blue, yellow
Likes:
following orders, making Vashti happy, causing mischief, being alone
Dislikes:
crowds, humans in general, being provoked, people thinking he's cute
SD Type:






YoSD Colin (HT Dolpa Kyoto 6 - After Event) (Apr 2009 - )
pure skin UV protect resin, normal skintone
torso: 'Tenshi' top half, boy bottom half
Shizuku Tenshi wings / Gold Ruchiru Angel Wings (soda jelly)
LeeKe Devil Horns (S size, customized)
BambiCrony Misty Blue Elf Pepe (full set limited version) (Mar 2007 - Apr 2009)
french resin, misty blue skintone
Faceup:



by
Yuki
(Jun 2009 - )
default Volks
(Apr 2009 - Jun 2009)
by ViYa
(Mar 2007 - Apr 2009)
Hair:
rhapsodisiac Werewolf style, black wolf
Eyes:
Enchanted Doll Urethane Eyes, special #39 with #36 rims (14mm)
Family:
unknown
Notes:
Ishkiriel is a demon spirit, similar to Vashtiel, however his kind lives on an entirely different plane to Vashti's. His kind came into servitude of Vashti's kind many, many millenia ago, and are born and raised with the knowledge that when summoned, they will serve another demon their whole lives. He was summoned by Vashti when Vashti earned the right to do so, and has stayed close by his side ever since. He believes firmly that obeying Vashti is the most important thing in his life, and will do whatever he's told without question. He also really likes Vashti and is glad that he was the one to summon him. He feels uncomfortable to stray too far from his master's side, and also dislikes having to make decisions for himself. In addition, he dislikes other people, and other demons, and prefers it best when he and Vashti are alone together. He is somewhat jealous of Vashti's relationship with Meshabber, but would never dare say so aloud for fear of angering Vashti. He is reticent and somewhat grumpy, quick to anger and slow to cool, but never gets angry at Vashti.
After existing on this plane for some time, and after much striving and effort on his own part, Ishkiriel gained the capability to metamorphose into a new form. The form he chose was not only stronger, but also much more similar both in colour and appearance to his beloved master. Since his metamorphosis, he seems more confident, and sometimes even shows a more smirky side of himself.